The perseverence of Stephan Hachemi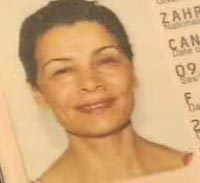 Zahra Kazemi
May 24 - The fruitlessness of soft power has come to be symbolized by one outstanding example: the failure to achieve justice for Montreal photojournalist Zahra Kazemi, who was murdered on or about July 11, 2003, in an Iranian prison for the unspeakable crime of photographing a vigil outside Evin Prison - the very prison in which she would later be tortured and killed.
Those of us who recognized immediately that Kazemi's death was linked to the struggle for democracy in Iran hoped - briefly - that the Canadian government would, by pressing Iran for answers to Kazemi's death, be able to assist their struggle. We were disappointed, because the Canadian government seemed to do more to protect the Iranian mullocracy than a Canadian citizen.
Their calumny was further revealed by later reports that she was defiant in prison and was subjected to unspeakable torture, but we did not get this information from the government which should have pressed the investigation but from British, American and Canadian news sources.
The lethargic response by the Canadian government, first by accepting the dubious explanation of the Iranian government and then by dithering, delaying, and finally mildly protesting was sharply challenged by the news media in Canada, which did not allow the story to die, and by Kazemi's son, Stephan Hachemi.
Coincidentally, 2 months after Jean Chretien stepped down as PM Khazakhstan News reported that he had been named special adviser to the board of directors of Calgary-based PetroKazakhstan, and the same item mentions a lucrative swap arrangement with Iranian oil refineries (read relevant excerpts here.)
Kazemi's son wrote a scathing letter to the National Post which can be read here.
And then there is this: The Canadian ambassador to Iran has been recalled twice as a response to Iran's failure to achieve justice for Kazemi, but relations with Iran are not only friendly but downright cozy - so cozy that the Canadian government planned to give an official from Iran - a known state sponsor of terror and a member of the Axis of Evil - a look at the workings of the Advance Passenger Information database in August, 2003, little over a month since Kazemi's death had been confirmed as due to torture (more information under extended entry.) (Link from lfg.)
Stephan Hachemi has been steadfast in his quest to achieve justice for his mother and again renewed his call for Canada to take action against Iran.
Canada's record is dismal, though. Thus far it is Iran 5, Canada 0.
CBC has provided their timeline, and I have a slightly different (and admittedly incomplete) one in the extended entry.
Tracking the Kazemi case:
Students in Iran held pro-democracy demonstrations on June 10, 2003, and for the following nine nights. The demonstrations were broken up by thugs on motorcycles wielding clubs and chains and it was estimated that over 4,000 people had been arrested. Canadian citizen and photojournalist Zahra Kazemi was arrested on or about June 24 for photographing people holding a vigil outside Evin prison where the demonstrators and student leaders were being held.
According to an eyewitness, she was defiant in prison:
When Ms Kazemi was first challenged, she was told to leave her camera and collect it the following day. She refused, ripping out the film to expose the frames. Her defiance ensured she was kept in prison.

"She was confronted by the authorities and asked to give the camera and the film," said Hamid Mojtahedi, a Canadian human rights lawyer with access to officials involved in Ms Kazemi's case. "She resisted."
According to the same eyewitness, she was still conscious when she was taken to the hospitalon or about June 27 but was not given medical treatment for 12 hours during which she lapsed into a coma. The official story was that she lost consciousness in the prison and was finally admitted to a hospital. Despite repeated requests by her son, Stephan Hachemi, and the Canadian government, Kazemi's body was not returned to Canada for autopsy and burial.
Bill Graham, then Minister of Foreign Affairs, was vacationing in Corsica at the time and in public statements at the time, seemingly accepted without question the Iranian official version that she fell, hit her head, and went into a coma.
The CBC was unrelenting in keeping the story going and urging further investigation into Kazemi's death. They ran a story on July 16, 2003, Iran admits beating killed Kazemi with an odd lead paragraph:
Canadian journalist Zahra Kazemi died of a fractured skull, but it may have been an accident, Foreign Affairs Minister Bill Graham said.

Graham said he learned about her death in "an open and frank exchange" on the phone with Iran's foreign minister, Kamal Kharrazi, on Wednesday.

[...]

Mohammad Ali Abtahi, Iran's vice-president, admitted Wednesday that Kazemi died as a result of being beaten.

But Graham said Foreign Minister Kharrazi told him that "she might have fallen or had an accident." He said that until it's known what happened, it's not possible to say what caused it.

Graham, speaking from France where he is on vacation, said the minister assured him that the perpetrators, if any, would be prosecuted.

Graham said Canada must be satisfied that the Iranian investigation is open and transparent.

"If crimes have been committed, we're pushing the Iranian government to punish those who committed the crime," Prime Minister Jean Chrétien said earlier Wednesday. But "we have to know all the facts" before acting, he added.
The CBC article deserves to be read in full to get the full sense of how unwilling the Canadian government was annoy Iran.
Yet according to a Globe and Mail April 1, 2005, article,
[Current Foreign Affairs Minister Pierre] Mr. Pettigrew added that Canada has known from the outset that Ms. Kazemi was murdered. "We do not accept the Iranian government's allegations that this was an accident. We never have."
On July 20, 2003, Kazemi's son, Stephan Haremi,
continued to press for the return of Kazemi's body to Canada for an autopsy and burial
and expressed his frustration at the passive behaviour of the Canadian government.
Reporters Without Borders joined the fight, as did Amnesty International. Yet the Canadian government refused to use the combined weight of these organizations to push for an immediate disclosure of the truth.
On July 22, 2003, the Canadian government "asked" that an inquiry be held into Kazemi's death.
July 23, Reporters Without Borders urged the Canadian government to take the initiative and cites other abuses of journalists in Iran and, on July 25, called upon the EU to break with Iran until officials responsible for Zahra Kazemi's death had been brought to trial.
Then, on July 27, it was reported that 5 people had been detained in connection with the death. Hachemi proposed the case taken before the ICC and dismissed the arrests as a "diversion" to throw the Canadian government off track." The day after Hachemi's call was made public, Graham suddenly seemed to understand what the case was all about:
"We wish to use the case both to open further democracy in Iran and also the protection of journalists," said Graham, whose son Patrick spent time in Iraq covering the war. But Graham has yet to speak with the Iranian foreign minister or confirm the reports surrounding the arrest of five security officials.
Only two persons were being detained in Kazemi's death. Then, for no apparent reason,
Iran threatened to exclude Canada from the investigation
altogether. (As the quote in the post notes, Canadian media suddenly became aware there was a power struggle between the mullahs and the reformists.)
Sept. 2, Canada asked the U.N. Human Rights Commission to take the Kazemi case after the charges against the two interogators were dropped.
On mid-September, a coalition including Stephan Hachemi made a series of proposals including turning the Kazemi case over to the U.N. Human Rights Commission.
On Sept. 22, an intelligent agent was charged with the "semi-premeditated" murder of Kazemi.
On Sept. 30, the Canadian ambassador to Iran was set to return.
Oct. 2, MPs voted unanimously for Kazemi's body to be returned.
Oct. 8, the accused enters a not guilty plea.
By Oct. 29, the investigation in Iran was bogged down with accusations and counter-accusations.
Dec, 2003, Chretien leaves government, travels to China, joins PetroKazakhstan, which develops close relations with Tehran and China.
Jan. 8, 2004, PBS Frontline aired a story about Iran and included the Kazemi case in their investigations.
Feb., 2004, Chretien's ties to PetroKazakhstan and the Iranian oil deal is made public.
June 8, 2004, Stephan Hachemi bitterly thanks Chretien for all he did to bring Kazemi's killers to justice, citing Chretien's connection to PetroKazakhstan and upcoming visit to Iran.
July 18, the Canadian ambassador to Iran was recalled when the court for the Kazemi trial banned foreign observers. Shortly afterward, the proceedings ended with no information as to when they would resume.
Nov. 25, 2004, Canada announced it was "mending" relationships with Iran. According to the Globe and Mail article (cited below) the government first learned of the medical testimony that month.
The Mar 31, 2005, Globe and Mail quotes Zahra Kazemi's attending physician who describes her injuries:
In Ottawa yesterday, Dr. Shahram Azam — a former physician with the Iranian security police who last month received asylum in Canada — spoke in great detail about the gruesome injuries to which Ms. Kazemi eventually succumbed in July of 2003.

She had a badly broken nose, a smashed eardrum, broken fingers, a crushed toe, missing fingernails and toenails, a severe head injury, signs of flogging, and deep bruising all over her body, he said.

An examination by an emergency-room nurse revealed "brutal" damage to Ms. Kazemi's genital area, which the nurse said could only have been the result of violent rape. "Those injuries, extensive and severe as they were, could only have been sustained during torture, Dr. Azam said. "It was the first time I saw someone who was tortured," he said in Farsi, speaking softly but confidently. "It was shocking for me."

Dr. Azam's testimony is the first account by a medical witness that categorically contradicts the official Iranian explanation for Ms. Kazemi's death, which is that she died after fainting and hitting her head.
This is the same article in which Pettigrew asserts that they always knew Kazemi was murdered. (Link via excellent post at
Let it Bleed
.)
The Canadian ambassador to Iran has been recalled twice as a response to Iran's failure to achieve justice for Kazemi, but relations with Iran were not only friendly but downright cozy - so cozy that the Canadian government planned to give an official from Iran - a known state sponsor of terror and a member of the Axis of Evil - a look at the workings of the Advance Passenger Information database in August, 2003, little over a month since Kazemi's death had been confirmed as due to torture. (link from lfg.)
The Canadian government understood fully how outraged the public would have been:
Iran had requested that one of its officials, Seyed Abu Talib Najafi, be briefed on the workings of Canada's new Advance Passenger Information database, designed to identify potential threats to civil aircraft before they board.

According to e-mails obtained under the Access to Information Act, Customs officials were concerned about the visit becoming public. One e-mail said: "We should keep this as low-key as possible."

Two e-mails within Canada Customs suggested there were concerns: "What's our position about the requesting country? ... in view of the current situation with Iran."

Just eight days previously, the Department of Foreign Affairs had recalled Canada's ambassador to Iran because it had refused Canadian inquiries about the Zahra Kazemi case. Kazemi, a Montreal-based photojournalist, was beaten to death after being arrested for photographing a Tehran prison riot. Iran maintains her death was accidental.

Foreign Affairs told Customs officials its only concern was "whether [Najafi] will be able to get his visa in time."

In dozens of e-mails, there is no mention of Kazemi, and no one questions why Canada would help Iran, considered by some to be a brutal police state. As well, no one asks why a government with a known track record of sponsoring terrorist attacks might want information about a new passenger security screening procedure.

With just days to go before the visit, a flurry of e-mails reveals that there were last-minute concerns about Najafi's identity. Canada believed his first name was Nasser – only after he landed in Canada did they learn his actual name.

And in an e-mail sent after Najafi was already en route to Canada, Chrystiane Roy, Iran desk officer at Foreign Affairs, informed Customs that if Najafi already had a visa, "it would be too late to do any screening."

In the end, it was only the huge North American blackout of Aug. 14, 2003 that prevented the briefing session.
One might say the
fortuitous
black-out, although whther by divine intervention, Rovian/CIA/FBI nefarious doings or plain old good luck is up to you (although I'd ask you at least consider that the CIA/FBI might have done it - they could use a successful operation, deserved or no, to balance their blotted copybooks!)
The article concludes with another alarming note:
Instead, Rachelle May, now acting director general of the Canada Border Services Agency, took Najafi across the street for a coffee. In a report sent afterwards to Foreign Affairs, she writes, "He showed interest in Advanced Passenger Information." (Emphasis added)
It is ironic that on the same day that the publications ban on the Gomery Inquiry is being attacked that there needs to be an acknowledgement that it was in fact the CBC that kept the Kazemi story in the fore even as the
Canadian government was downplaying it.

Those responsible for Kazhra Kazemi's death have never been brought to justice.
16:06 - Pieter has a round-up as well, and I should note that one blogger who played a major role in trying to stir some government action, Paul, moved sites in the meantime so the urls I used in linking his site have changed - thus the incomplete record of the early days. His posts are in at his new site in his July, 2003, archives but I didn't have time to weed them out. It was Paul, by the way, who coined "Screeching Bill Graham" in honour of the miserable role that wanker played in trying to downplay Kazemi's death.
Posted by Debbye at
04:38 AM
|
Comments (2)