Memorial Day, 2006
May 31 - I feel as though my fingers have been poised over this keyboard for 3 days now, groping for words and trying to cut through the mingled humility, gratitude, and guilt that this day inspires.
I did not volunteer to serve my country in my youth. I believed, as do so many now, that it was better to work for peace. I had the feeling that, in ways I could not articulate even then, a general desire for peace could spread from belligerent nation to belligerent nation until we defeated all the warmongers.
I guess I believed that peace would spread by osmosis.
It's easy enough to laugh at such naivete now, yet my generation was inspired by Mahatma Gandhi and Dr. King: two men who successfully challenged two great nations in the cause of freedom, and they had done so not only without violence but by intentionally using non-violent methods. What we failed to take into account, though, was that both Gandhi and Dr. King knew that they were dealing with countries that, despite their flaws, believed in justice and thus would respond justly.
So, in our innocence, we believed communism wasn't evil but just a different economic system that offered hope to the Third World, and all the facts as to the deadliness of Stalin's gulags and the terrible death toll of Mao's cultural revolution were dismissed as American propaganda.
There were so many questions we should have asked about Russian and Chinese involvement but didn't, nor did we consider the Russian and Chinese propaganda machines. So we sang "Down by the Riverside" and "Last Night I Had the Strangest Dream" and protested the War in Vietnam, the draft, racial inequality and supported all the progressive things because we were so open-minded. We believed we were rescuing America from McCarthyism and the military-industrial complex. We believed ourselves pure.
When the U.S. finally withdrew from Vietnam, we felt proud because we had restored self-determination to the Vietnamese people who hated us and wanted nothing more than to be reunited with their Northern brethren.
And then we saw scenes like this one: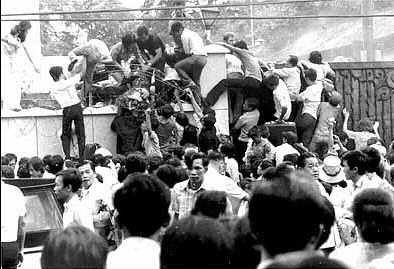 Marines throwing Vietnames back over American Embassy wall in Saigon
And there were other images: Vietnamese clinging to helicopter skids, and helicopters being shoved overboard to make room aboard carriers for as many people as could fit, and reading in the newspapers about the unspeakable horrors those people endured crammed on open flight decks and others who had boarded rickety boats rather than live under communism. Many of them in fact died -- of thirst, starvation, disease, and by drowning when their boats capsized in stormy seas.
The heartbreaking stories of the boat people forced thinking people to wonder why there was such a flood of refugees and the possibile answers were unsettling.
All this shook my sense of confident righteousness -- and then the shocking reality of Pol Pot's Utopia demolished it: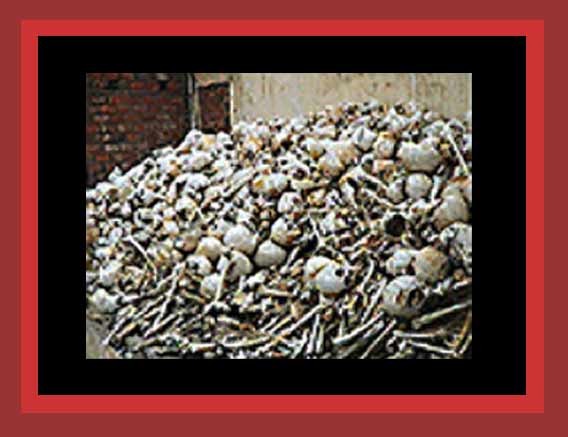 Life under the Khmer Rouge for 1.6 million souls
[Aside: The above is one grim picture, yet it is not entirely of an ugly past: were the bones of all those Iraqis beheaded, shot or blown apart by Zarqawi and others stacked in a pile, how high would it be?]
It was troubling, but maybe the "warmongers" were right after all. Maybe people didn't want to live under communism. Maybe communism really was evil and enslaved people. Maybe its spread had to be stopped. Maybe, just maybe we had been wrong.
And yet, despite our well-meant but unbearably foolish innocence, we were more fortunate than we could ever have imagined because those we had dismissed as brainwashed victims of U.S. propaganda remained vigilantly at the walls to protect us from the very dangers we had laughed off as simple-minded attempts at fear-mongering.
The American soldier stands between us and the monsters and often, because we are a compassionate people, he stands between people of other lands and the monsters. He has done so in Europe, the South Pacific, Africa, Korea, Panama, Grenada, Somalia, Vietnam, Kuwait, Afghanistan, Iraq, and too many places to count and too, because it is the right thing to do, has brought aid to people in far away countries devastated by tsunamais, earthquakes, and other natural disasters.
It is a curious thing, that calling to serve in a military and humanitarian capacity, and we are blessed that so many answer it.
I am humble because my youthful idealism was so misdirected, I am grateful because the men and women of the American military continue to protect me, my family, and billions of people in the world from monsters I once believed did not exist, and I feel guilty because, although I am wiser, the Pentagon thinks I am too old to serve so I can't make up for the foolishness of my younger years.
Neither words written nor spoken can ever repay this nation's debt to those souls lost in struggles to secure and protect our nation and our values, but we can vow to keep faith with them and, in the words of Lincoln, "highly resolve that these dead shall not have died in vain. . . that this nation, under God, shall have a new birth of freedom. . . and that government of the people. . .by the people. . .for the people. . . shall not perish from the earth."
And, if you haven't done so yet, go here and, in the name of those who gave their lives to secure your freedom, take advantage of the ways available at that site to show your gratitude to those who now serve.