LET FREEDOM RING!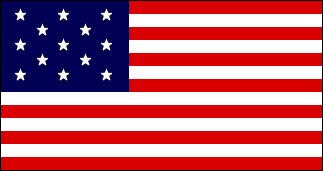 The first official flag of the 13 united States of America
July 4 - It has become depressingly commonplace to assign strictly mercenary motives to the struggle for independence from Mother England, and thus to shrug off any reverence we may accord those who signed the Declaration of Independence. But that casual dismissal is often self-serving: after all, it is easier to disrespect occurrences and events that have strictly pecuniary motives, (e.g., it's all about the oil!,) than to to disrespect those same things when they are driven by ideals, optimism, and confidence in ourselves and our fellow man (a free and properous Iraq.)
I've come to believe that people's theories often say more about them than about those theories which are supposed to explain historical events. That's a relativist theory of another sort, but a much more uncomfortable one due to the degree of self-honesty it demands.
It's not my purpose to argue those points today. I can only account for my beliefs, my viewpoints, and my opinions, and at the risk of sounding incredibly arrogant, I don't have to justify them to anyone especially today.
Reverence for stability didn't gain independence. Reverence for stability didn't cause us to wonder what was over the next mountain, build the Erie Canal, or send us to Alaska and the moon. Something else did, something that combines curiosity with audacity and faith in our ability to find ways and means to our goals.
I've posted the text of the Declaration in the post below, and I just want to quote the closing passage:
... we mutually pledge to each other our Lives, our Fortunes, and our sacred Honor.
High-minded, lofty declaration, right? It sounds somewhat melodramatic and over-the-top to today's ears, but less so when we recall that
they literally meant it
.
Had they been captured or the revolution failed, they would have been disgraced and stripped of their honor as traitors; their property would have been confiscated; and they would have been hung like dogs.
As far as I'm concerned, no one has the right to sneer at those men unless they themselves face the same risks for making similar declarations, and nobody, and I mean nobody, living in the USA faces similar punishment. There are, however, many living in the USA today who left their native lands because they faced such punishment, and we've welcomed them in part out of respect for our forefathers.
I used the word audacity earlier. I love that word: it's impish, irreverent, and conveys all that is best and dearest about human beings. It forms the American character, and has led to our greatest triumphs and most humiliating defeats. But part of an individual's character is revealed by which of the two frame their actions and part of our struggle today is the degree to which we remain audacious.
My answer is pretty clear. I won't apologize for anything any more than any other country need apologize, and if we've made mistakes (and I know we have) it is part of the human condition to err. What I don't accept is that it is part of the human condition to stay in those moments of failure; it is rather our obligation to continue to stride forward with renewed purpose and determination.
Including those endowments names in the Declaration, I hold some other truths to be self-evident:
Your rights end where the other fellow's nose begins;
All everybody wants is some elbow room;
Mr. Colt made all men equal;
Rude people fight indoors and polite people step outside;
If I don't wanna see Farenheit 911, I don't gotta; and
I may not agree with what you say, but I will defend your right to say it (but don't yell "Fire!" in a crowded theatre, incite to riot, or argue balls and strikes 'cuz the First Amendment won't save your ass from being tossed.)
We are regarded by many of our friends as simplistic, rustic, arrogant, overly religious mongrels.
Granted, our friends have some valid points. We haven't mastered the art of nuance, tending more to say what we mean and mean what we say. I guess we would get along better if we obscured phrased our words so as to render them devoid of any real meaning, but that offends our notion of honesty so we're stuck with being honest.
We understand complicated theories and arguments all right, but we also know when arguments and theories are made unnecessarily complicated and can smell out a rat or a pompous ass.
We really do try to be cynical, worldly and sophisticated, but our innate cheerfulness and optimism keep bubbling up despite ourselves because we've learned that hard work brings its own rewards and that, if you fail, you can pull up your socks and try again.
The biggest sin is self-pity. Just stop whining and get on with the work at hand. If, however, you choose to laugh at your pratfall, I'll cheer you up by telling you about my own most embarrassing moments. That's what friends are for.
We just can't help remembering that there is a benevolent deity up there. We implore His guidance every 7th inning, we offer up an involuntary prayer for the safety of a missing child, we thank Him for small and large events, and we affirm that our flag, currency and Supreme Court are connected to Him in mysterious ways.
Many of us are not that many generations away from rural areas. We could try harder to develop a better sense of self-entitlement, but that conflicts with our rustic notions of an honest day's work for an honest dollar. (We also believe that some money is "dirty.")
We're rather proud of the fact that we've managed to cobble together a nation of people who have ideas in common rather than bloodlines, so I guess that does make us mongrels.
But again, we are close enough to our rural roots to recognize that in-breeding makes for poor stock.
Someday, we may be more philosophical when our elected or appointed officials are caught with their hands in the till, but we are still so immature as to demand accountability for our tax dollars because we went to a lot of trouble to put checks in place to keep those people honest.
That's another problem too: we just can't seem to forget that every penny some call the government's money came out of our pockets. In fact, we still think of it as our money and demand that it be spent with care. (Don't blame our leaders for that; they have tried really hard to convince us that our money belongs to them, but we're a little bull-headed on some things.)
We really don't like government in any way, shape or form, and a standing joke remains some suit walking up and saying I'm from the government and I'm here to help you. We are extremely critical of our own government but try keep our criticisms of other nation's governments to ourselves because it's the polite thing to do. When we do began to openly criticize them, we're sending a signal that many fail to catch.
We refuse to assign our futures to an elite - in fact, we get downright hostile to the very notion of an elite - but we have genuine affection for the selfsame British Royal Family that we waged a war of independence to be free of. (I think they're a little fond of us, too.)
We cherish our wild and colorful cowboy past. We are incredibly sentimental. Our national heritage includes a cracked bell, and we literally had to drain a swamp to build our capitol city.
We know Charleton Heston didn't part the Red Sea, but we secretly suspect that if God wanted anyone to do it today, He'd first offer the job to Chuck.
Our cultural identity is littered with phrases like WE, the People, You and what army, It's Miller time, A/OK, Buffy and Angel 4ever, Scotty beam me up, In God we trust; everyone bring cash, and you can pry this gun from my cold, dead hands.
We've added to these phrases over the years, most recently including Let's roll and bring it on. (Even the allowed and disallowed uses of the F-word are finally being codified, due in large part to the efforts of V-P Cheney and Charles Krauthammer. Stay tuned as this vital issue continues to be debated.)
The word "submission" isn't in our emotional vocabulary, but we not only understand the concept of payback, we even issue upgrades. (At the time of this writing, there are contradictory reports about Marine Corporal Hassoun, but I continue to pray for him.)
So Happy Birthday, America, and thank you for your gifts of freedom, optimism, and self-confidence. May God bless and watch over the brave men and women who guard the walls, and make us worthy of their sacrifices.
(An excellent July 4th prayer is by Dr. Sensing here, by the way.)
I also want to send my most amiable regards this day to our fine friends and allies in Mother England's other wayward child, Australia, as they celebrate Reserve Forces Day there (link via the esteemed Reverend Pixy.)
Updated to recommend some wonderful posts:
Michele's stands tall and true for liberty everywhere, and most especially in Iran this week.
Aaron tells what happened to those signatories of the Declaration of Independence - some of them did fall into British hands, and others were wounded or killed during the war. Read it.
What follows is a personal account of this American living in Toronto.
I requested - in writing - to book off July 4 several weeks ago. My boss asked me why I would be willing to forgo a day's pay, and I was stuck for an answer.
It wasn't that I didn't have an answer (I had, in fact, several) but that my initial response was irritation at the question itself. After all, don't I live in multicultural, ethnic-diversity-proud, government-funded-heritage-program-happy Canada? Isn't everyone supposed to honour the traditions and celebrations of their native lands?
So I simply said that I feel obliged to honour this day in celebration of the courage and determination of my ancestors who stepped off a leaky boat onto a primitive land, built lives and property, then decided to risk everything on a long shot.
She looked at me as though I was nuts and it hit me anew that my ancestors were also nuts. And glorious.
Posted by Debbye at
06:44 PM
|
Comments (3)