Zarqawi is Dead. Dead. Dead. (Updated)
July 8 - (Updating continuously and time stamp intentionally keeps this on top.)
06:29 - The no-good, m-f'ing, murderous pscyopath is dead: Abu Musab Al-Zarqawi Killed in Bombing Raid. I wonder how he likes it in Hell?
My son called me at work at 4 a.m. this morning and said "You want to hear some good news?" Heh. I hope my, um, enthusiastic response doesn't get me fired. The downer: I told the other people, and none of them knew him by name and I had to list some of his crimes.
And it looks as though they used my fav-ou-rite weapon: Predator and Hellfire.
This is huge, and I mean huger than capturing Saddam Hussein or killing Udai and Kusai, and in terms of the immediate strategy for Iraq, this may well be the turning point. More later, perhaps, when I settle down.
One last word: I can never think of Zarqawi without thinking of Nick Berg. Well, he has been avenged at long last. Rest in Peace, Nick, and all those who fell victim to that monster.
07:32 - I'm still blushing over the language that I used when I first heard the news. I so need to wash my mouth out with soap.
How wonderful and appropriate that Iraqi police made the identification! He has orchestrated the murders of so many of them -- as well as those who stood in lines to join the police (and army) -- that I can easily imagine their grim satisfaction that a vicious foe has been "eliminated."
Pres. Bush is speaking on this, and although he is far more cautiously optimistic than I, I do echo his closing: God Bless the Iraqi People, and God Bless America.
Okay, so now U.S. officials are being cautious. Lord give me strength: I was not convinced that capturing Saddam was going to stifle the insurgency but they thought such was the case however, as I stated at the outset, I think this is bigger than they are saying (maybe because their own optimism has led them astray before? They really need to read more blogs.)
Now Dan Senor is speaking, and he is hitting the nail on the head: this latest instance of "blasting the bastard to Kingdom Come" shows that it take time and patience, but the days of people like Zarwawi are numbered.
I haven't heard anyone say it yet but I just know some wanker is going to try to throw cold water on this and prattle "but Bin Laden is still loose" to which I will pre-emptively respond "what's your point?" I don't care about Bin Laden, I want the strategists and the architects of terror like Zarqawi and al-Zawahiri. I want bin Laden to watch helplessly as his followers fall one by one because more and more people choose to stand up to those who try to rule them by terror, and finally for him to die a lonely, disillusioned man with only bitter dreams of glory to comfort him. I want him to know utter despair before he dies.
8:03 - Rats. Not Predator/Hellfire. Oh well, he's still dead.
08:09 - Australian PM John Howard is more enthusiastic:
"The reported death of Abu Musab al-Zarqawi is great news for the people of Iraq, the real victims of his murderous behaviour," he said.

"He has been the principal architect of terrorism in that country.

"Not only does his death remove a cruel terrorist, but it's also a huge boost for anti-terrorist forces in Iraq."

The Prime Minister said the Iraqi Government's determination to destroy terrorism should be supported.

"The determination of the Iraqi Prime Minister, Nuri al-Maliki, and his new Government to confront terrorism and the insurgency is something that everyone should support," he said.
I love that guy.
Tony Blair was concise as always:
In London, British Prime Minister Tony Blair said al-Zarqawi's death "was very good news because a blow against al Qaeda in Iraq was a blow against al Qaeda everywhere."
Properly his words should be up on the BBC website but I couldn't find his comments there and I haven't seen any comments yet from Canadian PM Harper. The CTV does quote "terrorism expert" Eric Margolis, though, at that link. They just can't help themselves.
08:39 - Michael Yon's post is aptly titled Death Finds the Devil's Second Most Favored Serpent and concludes:
His death will not likely fracture the terror campaign in Iraq because of the disparity of the insurgency itself, comprised of many distinct and disjointed elements, not all of whom were following al-Zarqawi.

Nevertheless, this is an important victory in the GWOT showing that persistent effort can and will produce definitive results. But al-Zarqawi was largely a media-produced terror hero, now that he is gone, let us not produce another.
08:47
- In the press briefing, Caldwell is calling the information collected at the site "a treasure trove" and confirming that they were 100% convinced they were hitting Zarqawi at the "safe house." Heh. Another humourous concept is that Zarqawi's "spiritual advisor" was also killed.
I may as well admit it: I really, really wish that the kill had gone to the Iraqis. It would have been appropriate given how many of them he has killed as well as a tremendous confidence booster for the police and army. Again, though, I think that being the ones to identify his body parts was a great source of satisfaction.
The press briefing showed Zarqawi's head. Of course there was no intentional irony.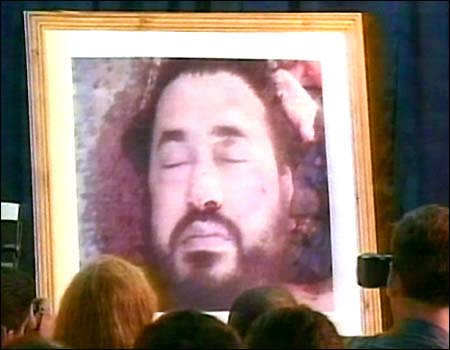 One dead Zarqawi
Courtesy of FoxNews.
11:47 - A good round-up of reactions here at Pajama's Media (link via Newsbeat1.)
I want to extend a hearty congratulations to the people of Iraq, who have endured more than their share of monsters. This may not be the end of their road but I hope this represents a significant turning point for them.
I need to get some sleep, and it occurs to me that a great many mothers in Iraq are settling their kids down for bed about now. None of us can predict what tomorrow will bring, but is it really too much to hope that tonight, if only this night, all of Iraq's children can sleep without fear?